Jan. 27, 4-8pm
80th Birthday Party
Divots at the
Edgewood Gofl Course
in the Chalet
Fargo, ND
March 17, 2-5pm
70th Birthday Party
Rush City, MN
April 27-29
Wisconsin Dells Polka Fest
Chula Vista Resort
Wisconsin Dells, WI

May 6, 1-5pm
MPA Member Appreciation Dance
Maplewood Moose Lodge 963
1946 English Street
Maplewood, Minnesota 55109
June 2, 4-???pm
Wedding
Pine County Fairgrounds
Pine City, MN
July 27, 6:30-8pm
Art in the Park
Pine City, MN

July 28, 3-7pm
60th Anniversary
John & Alice Johnson
Event Center
Floodwood, MN
Aug. 5, 2:30-6:30pm
Beer Garden
Pine County Fair
Pine City, MN
Aug. 11, 4-8pm
50th Wedding Anniversary
Event Center
Pine County Fairgrounds
Pine CIty, MN
Sept. 14, 6-10pm
Harvest Fest
Church of St Joseph
150th Anniversary
Rosemount, MN

Oct. 6, 1-5pm
Gull Dam Oktoberfest
Gull Dam Brewing Inc.
Nisswa, MN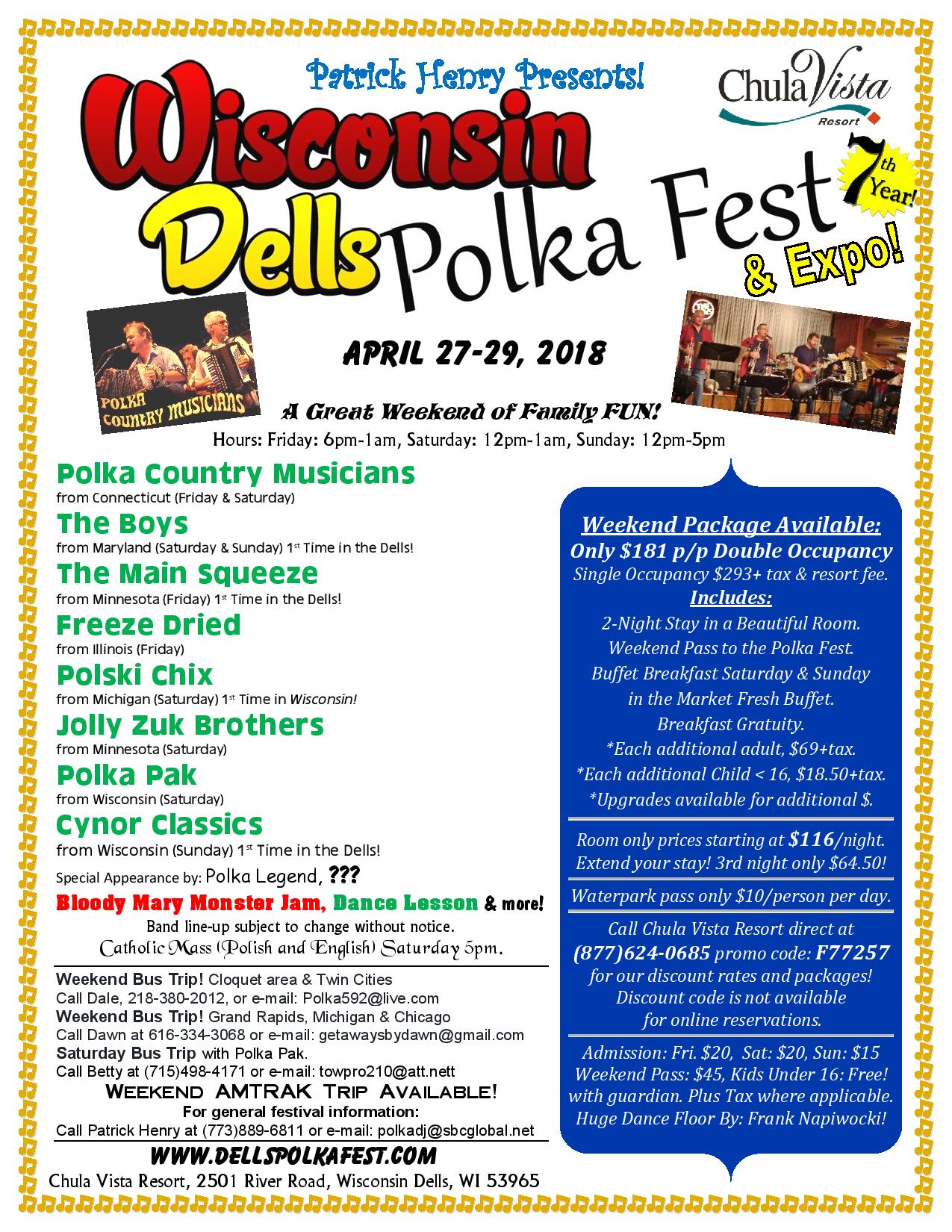 Would you like to enjoy a fun weekend of polka music for listening and dancing at the Wisconsin Dells with an amazing line-up of bands from all around the country?
THE WISCONSIN DELLS POLKA FEST WILL BE HELD AT THE BEAUTIFUL CHULA VISTA RESORT ON APRIL 27-29, 2018.
But, you are thinking -- I'm not sure if I want to drive to the Dells.
JOIN US -- THE JOLLY ZUK BROTHERS BAND FROM STURGEON LAKE, MN -- AND LEAVE THE DRIVING TO US!!
We are offering a bus trip to the Dells from Minnesota, leaving Friday April 27 and returning on Sunday April 29.
Don't miss this great opportunity so you can relax and enjoy the dance event!
Here are the details:
For the polka fest weekend, we are only arranging for the bus transportation.
The weekend packages have already been set up so you can call the Chula Vista Resort directly for room reservations. (See information below)
First, here are details for the bus transportation. Cost of the trip is $89 per person round trip.
We have several pick-up places.
Friday April 27
First pick-up is at the Walmart store in Cloquet at 7 am.
Next, the Minit Mart in Moose Lake at 7:30 am.
Then, the Holiday station in Pine City at 8:20 am.
The Village Inn in Wyoming, at approximately 9 am.
Last, the Holiday station on Radio Drive off of Hwy 94 at
9:45 am (In Woodbury, east of the Twin Cities)
Then we're off to the Dells!


Sunday April 29
The bus will leave the Dells at 2 pm to return to Minnesota.
The bus is a deluxe coach -- maximum capacity is 56 persons.
So don't delay in making reservations to be sure you "don't miss the bus!" The more the merrier!
For reservations, call Dale Zuk at 218.380.2012 or send an email: polka592@live.com. Also contact Dale with any questions.
Website: www.jollyzuks.com. Click on "f" on the website and follow us on Facebook.
See the attached flyer for room reservation information.
Here are highlights:
Weekend package -- double occupancy only $181 per person + tax & resort fee, single occupancy $293 per person + tax & resort fee
Package includes -- 2 night stay, weekend pass for the 3 days of dances, buffet breakfast Saturday and Sunday and breakfast gratuity.
On the flyer, you will also see information about adding additional persons and obtaining a waterpark pass.
Call the Chula Vista Resort directly at 877.624.0685, promo code: F77257 for the discount rate.
TRAVEL WITH US -- AND PARTY IN THE DELLS!